Dr. Phulgenda Sinha, PhD (1924 -2006)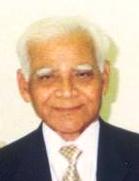 Dr. Phulgenda Sinha was born at Patna in the Indian State of Bihar, under rather humble beginnings. Bihar State is well known for being the birthplace of several notable Indian sages such as Kapila and Siddharth the Buddha, which may have had an influence upon the young Sinha. He was a disciplined student and easily obtained grades that made him eligible to go to college in Patna on the undergraduate level. Further he successfully studied at the University of Chicago, where he obtained his Masters Degree in Political Science. He later attended American University where he was granted his PhD degree. It was in Washington, DC during the early 1960s that Dr. Sinha began teaching traditional Hatha Yoga, a practice that started in his youth. In 1965 he founded the Yoga Institute of Washington. However, he had never pursued the practice seriously until he went to America. He taught Yoga primarily to support his academic studies. But, his main interest was in political science and the social transformation of Indian society after British colonial rule. Dr. Sinha was briefly aligned with Praja Socialist Party and was close friends with other activist like the famous Indian political scientist George Fernandes. But, his true mentor was Jayaprakash Narayan who inspired his impassioned mission to find ways to better Indian society.
He returned to India to continue his activist work in the empowerment of the Indian masses that he had championed unselfishly from 1946 to 1957. During those years he started numerous campaigns and organizations including the 'Bharat Sundar Banao' or 'Make India Beautiful' campaign.
He ultimately became disillusioned with much of his political work and that is when he began to see elements in the ancient Yoga and Meditation sciences of India that might serve to better empower the Indian masses. He began to realize that Yoga was being taught as part and parcel of secular Hinduism. However, he gradually studied that Yoga pre-dated Hinduism, Brahmanism and the mystical style of Yoga that was being spread around the world by various Indian Swamis and Gurus. It was during this period of soul-searching and reflection that Sinha began to elucidate his own ideas about the "true meaning and value" of Yoga and Meditation practices. He announced to the world that the mysticism and superstition rooted in Hinduism had affixed itself to Yoga and meditation to such an extent that the original system of Yoga expounded in the Samkhya Darshan of the Indian sage Kapila had been lost.
In the 1970s Dr. Sinha intensified his knowledge and practice of Yoga and became an adept in the more advanced teachings held in Raja Yoga. Dr. Sinha began to teach not only Hatha Yoga but also the therapeutic application of Yoga (Yoga Therapy). It was also in the early 1970s that Sinha set-forth on his mission to challenge the mainstream advocates of Yoga and began research which would culminate in 1987 with the publishing of "The Gita As It Was: Rediscovering the Original Bhagavadgita."
Prior to his death, and throughout the 1990s Sinha was semi-retired having been a victim and survivor of throat cancer. The cancer had taken him earlier in his life (1970s), which resulted in the removal of his larynx and vocal cords. He had to use a voice-box amplifier to speak for the remainder of his life. While living in Arlington, Virginia he co-founded a community health center in Washington, DC known as the Abundant Life Clinic where he offered his expertise in Yoga Therapy and teaching Hatha Yoga to students.
Dr. Sinha is the author of the best-selling book Yoga Therapy for Common Heath Problems (18th Printing) and over 18 other books on Yoga, Meditation and Healing, including Dharna Healing. His unpublished works include a major treatise and commentary on Patanjili's Yoga Sutras and his own autobiography "Self-Made Made Man." 
24×7 Helpline: +91 7004800327